Push your training further with our elite boxing gym, group classes, personal training and more.
Monday
ADULT: 9:30 AM – 10:30AM
ADULT: 12:00 PM – 1:00 PM
KIDS CLASS (Age 5 to 9) : 4:00 PM – 4:45 PM
KIDS CLASS (Age 10 to 13) : 5:00 PM – 5:45 PM
ADULT: 6:00 PM – 7:00 PM
ADULT: 7:15 PM – 8:15 PM
Tuesday
Wednesday
Thursday
Friday
Saturday
Personal Training Sessions
Is a group, co-ed fitness, conditioning, strength and technical training class held 4 days a week, from Monday to Thursday. If you like fun groups and fitness that makes you sweat, burns a lot of calories, makes you strong, improves your technique, but isn't boring, then our group classes are perfect for you.
Prefer to train in an all women's class? Whether you're looking to shed some pounds, tone, get strong, learn self defense, or become a fighter, our women's only classes are right for you. Our classes consist of beginner to advanced, so you will never feel left out.
It's not just about keeping kids fit, it's about self esteem, self defense, and friendships! Our kids class consists of fitness, technique, conditioning, and a lot of fun! kids classes are held Monday to Thursday from 5pm to 6pm.
Not quite reaching your fitness or boxing goals? our personal training sessions are designed to push you past your plateaus and help you reach your goals no matter how difficult they may seem right now. Talk to us about a complimentary session.
If you're serious about boxing, then our fighter's corner is the right program for you. We will help you reach your goals as a fighter through training and connections to new fights. We'll prepare you no matter what level you're at right now. Get in touch with us to learn more.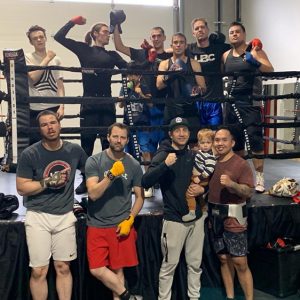 Is a fitness program that offers Boxing instruction, nutritional counseling and motivational training – packed with fun and energizing activities designed to help you reach your fitness goals.
*One time $50 registration fee, not included.
$175/family per month + $25 each additional
Personal Training (members)
Personal Training (non-members)
Private Group Rate (minimum 3)
$100/hour + $15 each additional person